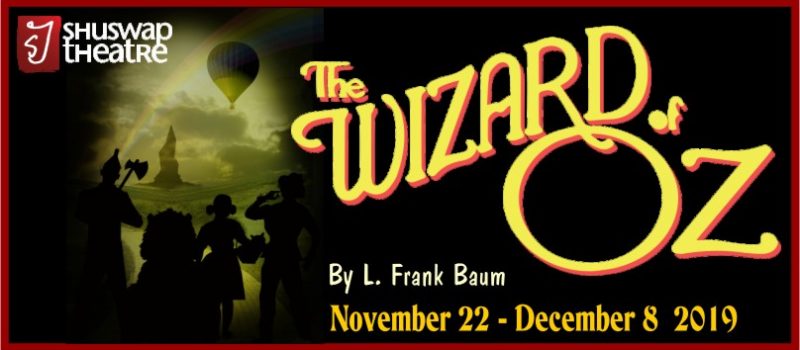 Shuswap Theatre is thrilled to announce a Relaxed Performance of The Wizard of Oz on Sunday, December 1st at 1.30pm. This performance will be modified in order to welcome those who have been diagnosed with Autism Spectrum Disorder, sensory sensitivities, dementia, or parents with very young children (3 and under).
A relaxed performance is a growing trend among theatres, and the aim is to create an inclusive theatrical experience. In a relaxed performance, certain elements of the production, including expectations around audience behaviours, are "relaxed" so that those who might not be able to attend a typical evening of theatre can feel welcome.
For example, the theatre is opened up a little earlier so patrons have extra time to enter and become acquainted with the building. The house lights stay on, yet dimmed, so the auditorium is never in the dark. Loud noises are minimized or eliminated. Patrons can move about or speak as they need to. A video feed is set up in the lobby so that those who may feel overwhelmed in the auditorium can leave, and watch the rest of the performance on the screen. A quiet area is set up for those may wish to take a break. We will have partners from Community Living BC on hand to provide support to individuals who request it. In addition, we will offer a tour of the theatre the week before the performance so individuals and their families can become familiar with the auditorium, washrooms, lobby, stage, and backstage ahead of their theatre experience.
The actors, creative, and production team at Shuswap Theatre are very excited to offer this relaxed performance to the community – our first ever. We anticipate that the Wizard of Oz will sell out and we encourage those who wish to buy a ticket for the relaxed performance to do so as soon as possible. We are working had to reduce barriers for this performance and have priced tickets for the relaxed performance accordingly. Tickets go on sale October 7th at shuswaptheatre.com or can be bought in person at Intwined Fibre Arts at 161 Hudson Street. More information about the relaxed performance can be found on the theatre website.